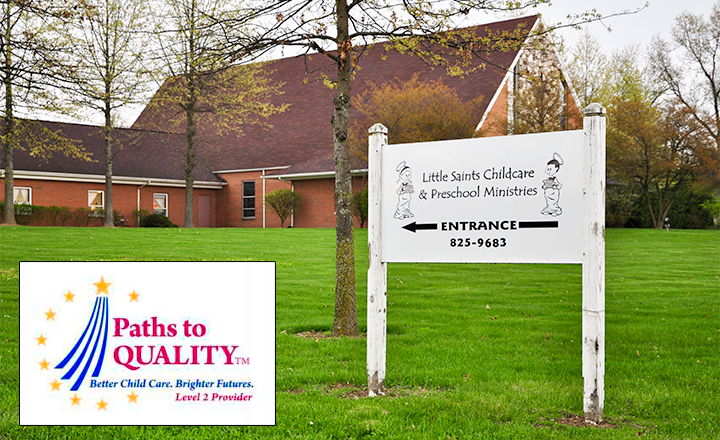 "Making Child Care Meaningful"
We believe that God has entrusted parents with the most important role in their child's lives. We work in partnership with families to build Christian faith and compassionate behaviors in young children. Little Saints also firmly believes that school success starts at birth. Each child is a unique person, with a purpose from God. We work on individual skills, learning, and development in a Christian environment.
At Little Saints Child Care, we understand that children are by nature creative, happy, inquisitive, loving, accepting and forgiving. Our goal is to foster all of these qualities by:
Providing a safe, secure, and happy environment where parents can comfortably entrust their children during working hours.
Providing spiritual, social, intellectual, physical, and emotional experiences within a Christian environment.
Fostering an appreciation of and respect for each child's home, family, and community.
Providing nurturing, Christian caregivers at a reasonable price.
Welcoming all children no matter their color, race, or religious background.
Our programs
We provide all-day care in a safe, loving environment for infants aged six weeks through pre-kindergarten. Before and school care is also available.
If you are interested in any of the following programs, please call 574-825-9683 for rates and availability.
Infants/Toddlers
Children are cared for in small groups by caring, trained, and dependable staff. Young children bond with their care giver and remain with the same staff and group from infancy through 3 years. This continuity of care best supports a young child's emotional and social development.
Threes/Fours
Child care program for three- and four-year-olds that builds on their social and self-help skills. Small group sizes assure that children receive individual attention.
Fours/Fives
Child care program for four- and five-year-olds that builds on school readiness skills such as following directions, working with others, and problem solving. Developmentally appropriate activities are included daily.
Preschool 3- and 4-year-olds
This program is designed to help children develop their social skills and cognitive ability. This class meets on Tuesdays and Thursdays throughout the school year from 8:30 to 10:30 a.m.
Pre-K 4- and 5-year-olds
This program is designed to help prepare students for kindergarten. This class meets on Mondays, Wednesdays, and Fridays throughout the school year from 8:30 a.m. to 12:30 p.m. Lunch is included.
School Agers
We offer before- and after-school care, as well as care during school closures, early releases, and school delays. For Orchard View or Middlebury Elementary students, the schools will provide transportation to and from school. York Elementary can be transported after school only. We also offer a Summer camp for school agers that includes activities on and off campus.